The auto-lubrication system of WT-W601 with strict designs can keep the running smoothly marine crane,decrease the artificial maintenance loss and avoid the attrition of axletree/pulley/wire rope under the non-lubrication condition. WT-W601 can be matched with WT-W650V3 comprehensively,the data of lubrication system is based on the data of marine crane operatione. the lubrication system can keeep the safety and steady operations dor marine cranes.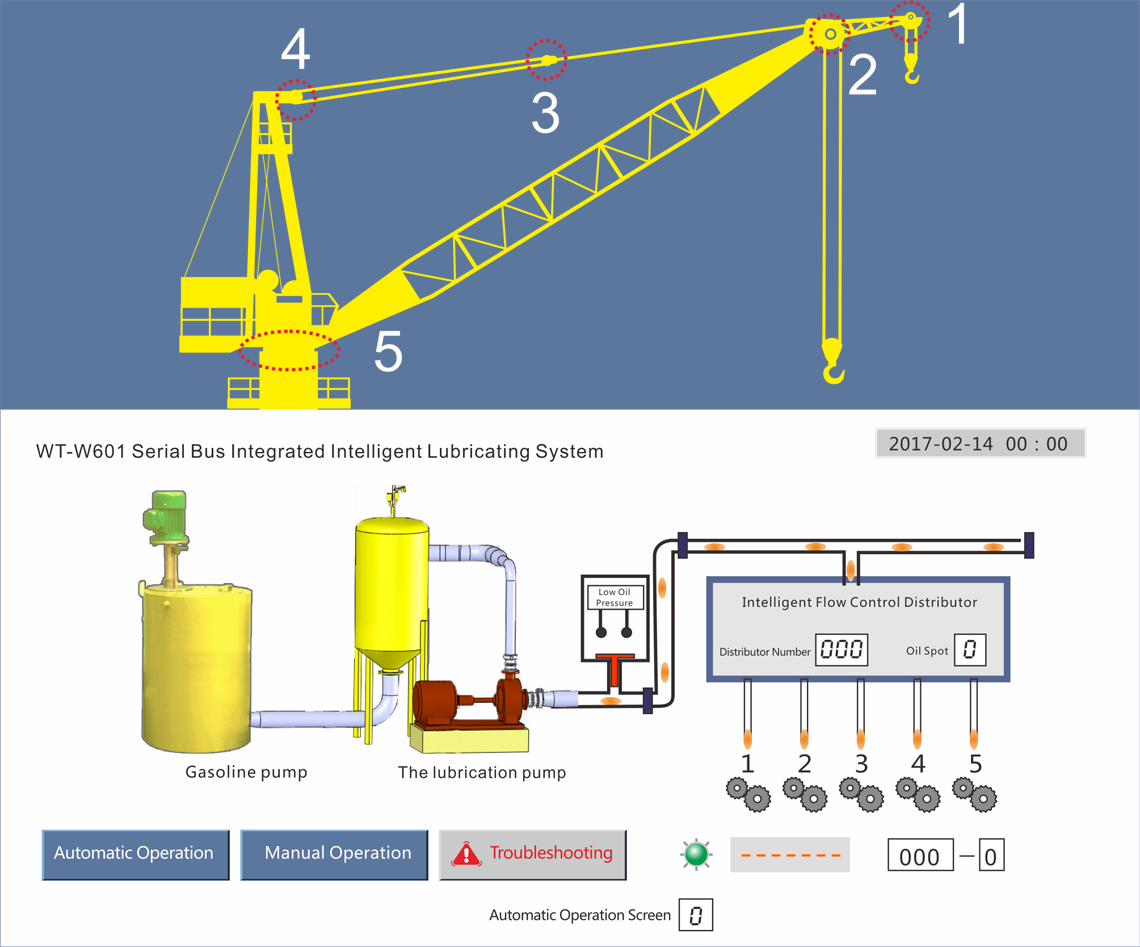 You can add the lubericating oil to the kep points according to the needs and period(time division/week division and etc).The methods for adding the lubricating oil can be manual and electric.

Electric lubicaton pump terminal type sysytem
Introduction of the system
the instructio time relay in electric cabinet automatic operate according to the specified time of interval oil supply.press'oil supply delay" means oil supply work abnormal. Alos have warning signal like "oil tank empty" and "Overload operation " The instruction time relay add 2 to 5 minutes for adjusting according to once oil supply actual time.
the end of oil supply pipes is equipped with a pressure control valve or differential pressure switch valve or two pressure on and off valve(single line perpipe).When the end of pressure reach the setting value,it will send signal to electric cabiet,selector valve 1a work, the pump stop the system once to finish the lubrication.After the setting interval time ,system work again and supply oil form another oil pipe.
The system usually design according to oil suppy time with-in 5 mintes(max within 8 minutes),the standars setting pressure of pressure valve is about 5 Mpa.
The pressure valve is setted on the end of the main oil supply pipe where is the max pressure-loss. It is recimmended to arrange a distributor(please check the two-wire bos below) to update the oil easily.
For small and medium-sized systems, for the convenience of electric appliance wiring, you can use the front-end pressure to control commutator, which is to parralleling install a pressure controller in thr second exit of selector valve. No need to install one pressure valve in the end of system.

The Feature

It is using the end if the pressure as a system to finish the oil cntrol parameters, easy design. Applicable to wide range distributed of lubrication points situation.